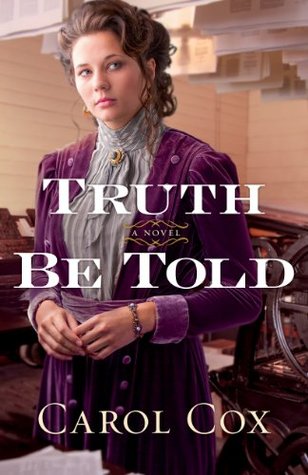 Oh look! Two posts in one week and they're both book reviews! Haha, gotta love book review programs!
Rating:
5 out of 5 stars
Back Cover:
When Amelia Wagner takes over the running of her father's newspaper in Granite Springs, Arizona, she vows to carry on the paper's commitment to reporting only the truth. But Amelia soon learns that even the truth can have consequences. Her father's revealing articles about Great Western Investment
Company's business methods have caught the notice of the wrong person, and pressure mounts for Amelia to retract her father's statements.
Determined to find the truth, Amelia goes through her father's notes and begins to interview members of the community. She can't seem to shake Benjamin Stone, a Great Western employee who's been assigned to keep tabs on her for the good of the company.
The more Ben and Amelia learn, the more Amelia's father's claims appear to be accurate. In fact, it's probably worse than he realized. Even Ben is beginning to wonder if he's become a pawn in the workings of a corrupt empire. But Great Western isn't about to stand for a female reporter and one of their own men bringing down their lucrative schemes. Working against time, and never knowing what danger lurks around the next corner, Ben and Amelia set out to reveal all they've discovered before Great Western silences them for good.
The Positives:
As with most books I love, I read this in about two days or less. I was pulled into Amelia's story right away. She isn't one of those damsels in distress, but she also isn't a feminist who thinks she is better than men at everything. She was just the right combination. But don't get me wrong, she made a couple stupid decisions at times that made me want to slap some sense into her.
And Ben Stone is probably the sweetest guy in this book. He was supposed to watch Amelia as an assignment, but he ended up falling in love with her.
I loved that their relationship wasn't built on how handsome or how beautiful they each were. It did mention what they looked like and what they thought of their appearances, but it was not the main focus. The focus was on each other's character and their morals.
And the faith in this book was one of the best! Amelia wavered, as any Christian would under her circumstances. But she hanged on to her faith. Ben's faith was great to see, too. It really brought them together.
I loved hearing everything about the newspaper business!
The Negatives:
Nothing.
Overall:
This was an amazing book and captivated me. I would definitely recommend this book!
I received this book for free from Bethany House in exchange for my honest review.