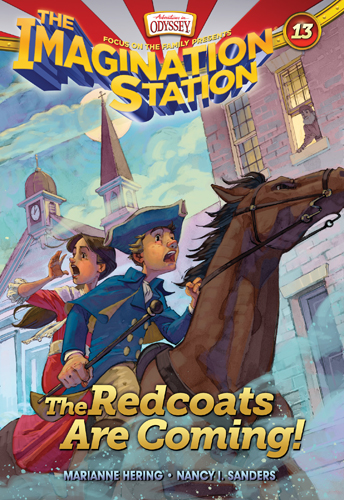 Rating:
5 out of 5 stars
Back Cover:
Join Cousins Patrick and Beth on a patriotic adventure set in 1775, Concord, Massachusetts. They have a simple mission: to deliver a letter to Paul Revere. They arrive just in time to meet founding fathers John Hancock and Samuel Adams. They also meet a teen girl named Sybil. She's collecting musket balls for the Patriots and is on the lookout for Loyalist spies. But where is Paul Revere? When the letter goes mysteriously missing, all seems lost. Patrick and Beth try to get it back, only to be accused as spies! Will they be able to convince Paul Revere they're on the side of freedom? Or will the real spies win out and crush the Revolution before it begins?
The Positives:
Well, firstly I have loved Adventures in Odyssey since I was 4. I've probably listened to almost every single episode. (There are over 700!) I saw this book for review on Tyndale and I thought, "Why not? May not be the most interesting book for my age, but I still love Adventures in Odyssey!"
I read it in about 45 minutes. Super easy and it was a bit interesting, if not also predictable. I'm sure it's exciting for the age group this is intended for: (7 year olds and up). It was definitely a fun trip back to the Revolutionary War. Paul Revere is always a great person for kids to learn about.
This book did leave cliffhanger, with Patrick and Beth jumping into the Imagination Station which had just been hit by an imaginary bullet. It ended with them being on a ship in the middle of the ocean with a pistol being pointed at their backs.
The Negatives:
I didn't find anything wrong with this book!
The Overall:
This was a very enjoyable read, even if it wasn't for my age group. I highly recommend to any moms that want their kids reading good, Christian books!
I received this book for free from
Tyndale House
in exchange for my honest review.